Introduction
It was somewhere in the year of 2005, the doorbell is ringing. Martine, Peter's wife at that time opens. The person at the door introduces himself as Ronald de Groot, a far family member of Peter. He Is engaged with the family pedigree and has heard that Peter has got the photo archive of the family. Peter is not in, being at sea. Once at home we make an appointment. This archive has Peter never really watched. And he has no contact anymore with his family for years. Ronald arrives, tells Peter that their ancestors were sailors. And that they came from the German, East Frisian island of Juist.
Juist... Sailors......
Peter changes his mind: "I always wanted to go to sea? And further I ever wished to go to college to study maritime history? And moreover Juist was the place where I have often been with my flatboat? We always admired that beautiful island. But I never knew that my ancestors came from there"
In short, his interest was piqued. January 2006 Ronald's first book with our family tree appears. With photographs from the archive of Peter. It will be the beginning of a long collaboration. The division of labor grows by itself: Ronald especially genealogical and Peter mainly maritime history.
Getting started. We write a letter to the Küstenmuseum (coast museum) on Juist. With his current sailboat Peter can not reach the island. In 2009 he takes therefore a tourist boat from the island of Norderney to Juist. Then quickly to the bookstore to buy the book of Willy Troltenier "Juist, gestern und heute" (Juist yesterday and nowadays) ought. The first acquaintance with the history of Juist has been made.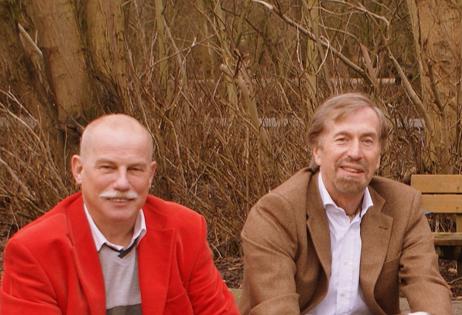 2012: Peter de Groot (left, living in Delft)
and Ronald de Groot (right, Voorburg)

 
The Küstenmuseum refers us to Onno F. Fisser, as being the person who knows a lot about the family history on Juist. It takes a long time before Onno replies to our letter. At last autumn 2010 his letter arrives. We make immediately an appointment and early November we go to Juist with a stopover in the State Archives in Aurich. For Ronald it is the first aquaintance with the island of our ancestors.
Onno gives us much information about the history. In the Küstenmuseum we get further informations.

Berend... Altona......
The beginning of a much longer quest through archives. Ronald learns that the hitherto oldest ancestor is a Berend Jacobsen from Altona. Altona is now a district of Hamburg.
In 2011 we go to Hamburg. Along archives, museums and ultimately in the archives of the Evangelical Church in Pinnenberg (just north of Hamburg) we find his name, including that of his wife Engel Elhard and dates of birth of their two children. They appear to have lived in the district of Övelgönne in Altona on the right bank of the Elbe. So there begins the history of our family.
At the time period between the early and mid 19th century we connect also the maritime history.
Reading order
De chapters may be read independently, however a logic order is as follows:
About the last name De Groot.
Our family tree De Groot.
Övelgönne as first residence of our family, being a part of Altona (now both being quarters in Hamburg).
The history of East Frisia, of which the isle of Juist is a part. Juist being the second residence after Altona.
The East Frisians as sailors.
The early history of Juist.
Juist at the time of our ancestors (the 18th century, until 1816).
The sea travels of our sailing family (Baltic sea travels).
The French era on Juist (1811-1813).
Juist, nowadays.
Juist left: our family in Holland.
The separate family parts in Holland (by means of a selection menu).
How further? A page about our search for further ancestors.
More items: family in law from Archangel; an index of all other family members which are related to our family De Groot.
Onno and Rüdiger thanks!
We could never have well done our research to the conditions under which our ancestors lived on Juist, without the help of Onno F. Fisser and Rüdiger Berthold. Therefore we wish here to express our thanks to them.
The baptism, marriage and burial data of Juist are registered in the church books (Kirchenbücher). These were stored in the Evangelical Church on Juist, but according to Onno Fisser they seem now to be in the archives of Hannover. These data are also stored on the microfiches at the Evangelical church management in Aurich, where Ronald retrieved the majority of our ancestor data (2004).
But there he could not find the marriages of Jacob and Jan de Groot. He found them later in the book " Das erste Juister Kirchenbuch " written by Rüdiger Berthold. At the marriage data was also mentioned that their father was already passed away and that his name was Bernd Jacobs from Altona.